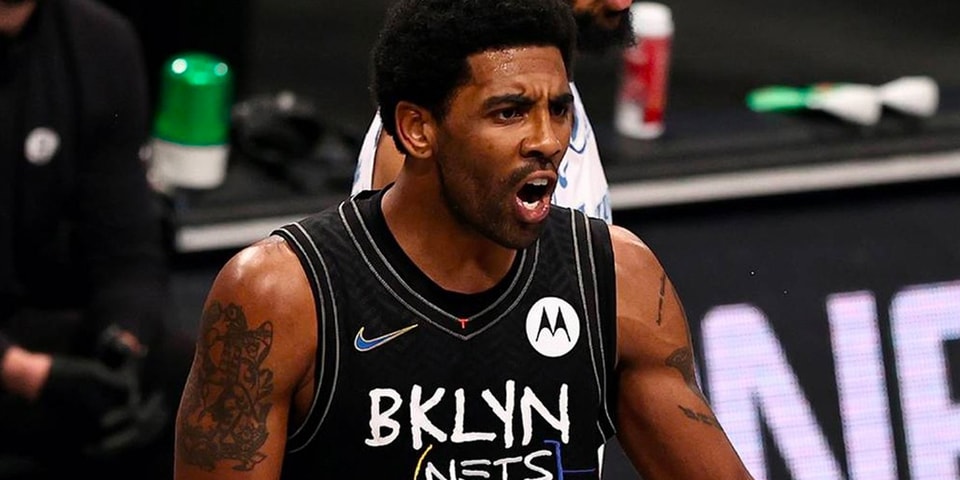 After the Brooklyn Nets made the official announcement of banning their star guard Kyrie Irving from playing or practicing with the team, fans took to Twitter to give their own opinions on the situation.
While the Nets' General Manager Sean Marks revealed in the statement that the team supports Irving's decisions, it appears that not all fans are content with the way this has played out. The situation has left many NBA supporters divided, with some showing their support to Irving while others have made jokes. In the past, Irving has not officially commented on the matter and has often avoided directly answering questions surrounding his vaccination status as he said he would rather keep these matters private.
His decision has seemingly affected the Nets' roster and has led fans to take polarizing positions on Twitter. Check out some of the reactions to Kyrie Irving and the Nets below.
The Brooklyn Nets BANNED star player Kyrie Irving from playing until he's vaccinated.

This is where we are. This is not a free country anymore.

I pray that Kyrie stands on his principles. Never bow down.

— CCG BRYSON (@RealBrysonGray) October 12, 2021
Kyrie bouta tweet a picture of Patrice lamumba or some shit and change his avi to duct tape over his mouth smh

— Trill Withers (@TylerIAm) October 12, 2021
The Brooklyn Nets are benching Kyrie Irving until his dumb ass gets vaccinated. Good!

— Palmer Report (@PalmerReport) October 12, 2021
They let Magic Johnson play basketball with FULL-BLOWN HIV but won't let Kyrie Irving play because he won't get a COVID shot.

— Lavern Spicer (@lavern_spicer) October 12, 2021
Kyrie Irving is extremely generous:

· Bought George Floyd's mom a house
· Paid tuition for 9 HBCU students
· Bought 200+ kids Christmas presents
· Provided 250k Thanksgiving meals in NYC
· Donated $1.5M to WNBA players

It's sad to see him called selfish for a personal decision.

— Joe Pompliano (@JoePompliano) October 12, 2021
kyrie in two weeks pic.twitter.com/AUQzg0F0bJ

— jason c. (@netw3rk) October 12, 2021
Kyrie Irving is an American and should be able to make his own choice on the medical decisions he chooses to make.

— Dr. David Samadi (@drdavidsamadi) October 12, 2021
If I'm Kyrie, I'm immediately getting vaccinated and returning to work after seeing this show of "support." https://t.co/3vftA1Gqts

— Jemele Hill (@jemelehill) October 12, 2021
Enough is enough already with Kyrie. It's time to play some damn basketball pic.twitter.com/tIjwsrTqiX

— Stephen A Smith (@stephenasmith) October 13, 2021
Pray for KD. If Kyrie walks, the best scorer in the league will somehow have to make due with only perhaps the 2nd best scorer in the league. Guy can't catch a break.

— ?America Is Musty? (@DragonflyJonez) October 12, 2021
What's wild is Kyrie thinks he's a freedom fighter. The man thinks he's MLK in front of the Lincoln Memorial but he's just Kanye with a crazy lay-up package.

— ?Black Big Lebowski? (@LaJethroJenkins) October 12, 2021
Shit wrong ash. Land of the free my ass. God got some bigger in store for you @KyrieIrving stand for some or you'll fall for anything ✊? https://t.co/1nj1MVw5iF

— NLE Choppa (@Nlechoppa1) October 12, 2021
Kyrie Irving is a hell of a person that has done so much for all communities. He is making a personal decision. Thats his choice. If you dont like it… cool, You are not him!! Have a great day!

— Nolan Smith (@NdotSmitty) October 12, 2021
This Kyrie Irving billboard didn't age well pic.twitter.com/Ymbgpsu7TX

— Christopher Wall (@c_scott_wall) October 12, 2021
In case you missed it, Neymar Jr. has revealed that 2022 Qatar World Cup will be his last.