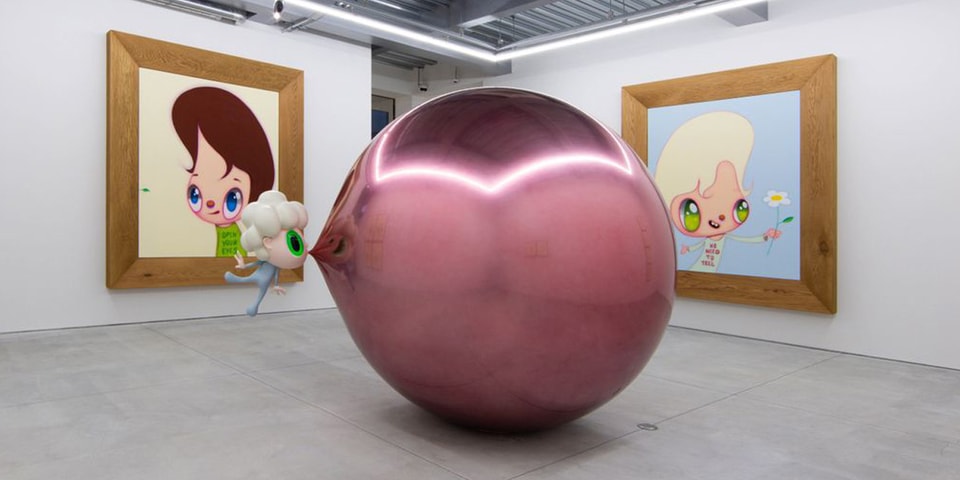 Javier Calleja recently collaborated with Case Studyo on a set of sculptural plant pots that feature two of his signature big-eyed characters. To follow, the Spanish artist has opened a new joint exhibition at Tokyo's NANZUKA gallery, titled, "Open Your Eyes."
Starting in the Underground location, Calleja's characters inhabit a surreal world where positivity jumps off the canvas. Each child is painted to a colorful backdrop, allowing their exaggerated facial features to grasp the viewer's attention. To complement the paintings and drawings on display, there is a reflective pink orb in the middle that appears unassuming on first glance, but reveals a smaller girl who is blowing bubblegum.
Elsewhere in the 3110NZ space, the Spanish artist has painted three similar paintings with slight written and compositional variations. Piecing the messages together, the artist states, "Waiting for the wind…which way?…up!" The light blue background blends well with the luminous light hovering against the gallery walls.
The title of the show reflects Calleja's unnerving optimism amidst the uncertainty in the world — that there is always something to be thankful for, all one needs to do is open their eyes. The exhibition is the artist's third showing with NANZUKA and will be on view until Christmas day at the 3110NZ location, and December 26 at the UNDERGROUND gallery.
Also on view, Library Street Collective is hosting an online exhibition on Paul Verdell.
NANZUKA UNDERGROUND
3-30-10, Jingumae
Shibuya-Ku, Tokyo, Japan
3110NZ by LDH kitchen
1-18-7, Aobadai,
Meguro-Ku, Tokyo