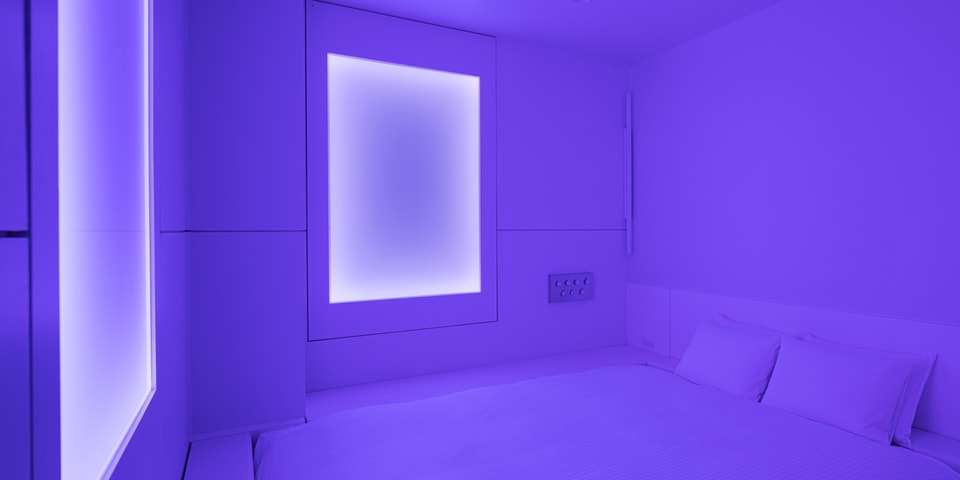 Japan's BnA Hotels is back with a new building entitled, BnA_WALL. The fourth flagship is located in Nihonbashi Tokyo, and joins a roster of buildings in Akihabara and Koenji, along with a space in Kyoto.
The WALL in the name references a massive mural that visitors will first encounter when entering the building. The site is dedicated to a list of constantly rotating artists who can use the space as a safe haven to harbor their creativity. Just opposite the wall is a cafe that guests can unwind and enjoy the unfolding work at hand.
BnA's fourth hotel features 26 rooms, each uniquely curated by a host of local artists. Similar to their other establishments, guests who stay at the hotel are in essence patrons of the arts, because a portion of the proceeds benefits the artist who designed their stay.
Amongst the array of intriguing flats, FLOAT by artist YOSHIROTTEN, transports one from the bustle of the Tokyo streets to a luminous retreat that appears as if it came out of a sci-fi fantasy. On the opposite spectrum, there is a room designed by artist, magma, who presents an eclectic set of wallpaper, alongside objects such as basketball rims that arouse play in the visitor.
Additionally, there is a speakeasy for guests to let loose for a drink later in the evening hours with all the furniture made by local artists. To book your stay, visit BnA's website.
BnA_WALL
1-1 Nihonbashiodenmacho,
Chuo City, Tokyo 103-0011, Japan