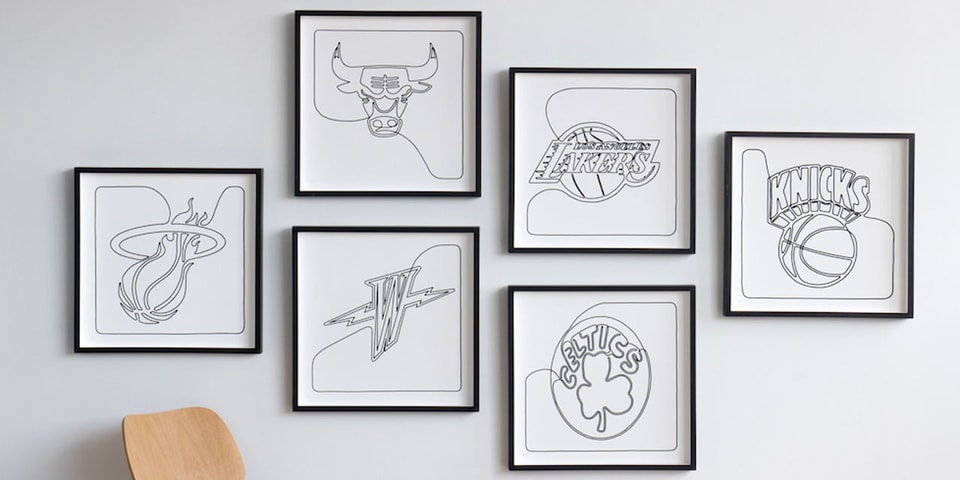 Andy Blank — a Brooklyn-based contemporary artist known for his wide array of budget-friendly original works — has teamed up with the NBA to release a selection of team logo prints.
As part of a multi-year partnership, Blank reconstructed the "Hardwood Classic Logos" for some of the league's best teams — specifically, the Knicks, Celtics, Bulls, Heat, Lakers and Warriors — in a single-line drawing style.
Though details of the long-term collaboration have not yet been disclosed, Blank offers a diverse selection of artworks including photography, paintings, drawings and embossing, so it is likely that the artist will reinvent classic NBA iconography in other mediums in the future.
Price details have not yet been disclosed; however, Blank's pieces are known to range between $99 USD to $199 USD. The artist will only sell 100 editions of each piece within the limited-edition drop.
"When you think of 'affordable art' in the fine art world it usually means that these works are mass-produced, machine-printed canvases or just sh*tty work," he told HYPEBEAST in a 2019 studio visit. "I'm making contemporary art for everyone, but it's important to maintain the integrity of our product."
Each basketball-punched print will be available for purchase on Andy Blank's website on October 30 beginning at 12 p.m. ET.
Take a look at Blank's latest works above.
Elsewhere in art, a book set on Paul McCartney's lyrics is slated for release next month.